TV Journalist Jamila Paksima Tells Painful Stories Nobody Else Wants To Tell
By Debbie Urbanski
Jamila Paksima '86 describes the five weeks she spent in South Africa as a 2001 Pew fellow as the hardest thing she's ever done. "By the end of the day, I was physically and emotionally so exhausted," she says. "But this also feels like some of the most important work I've ever done." She was there to film a documentary about AIDS and child rape.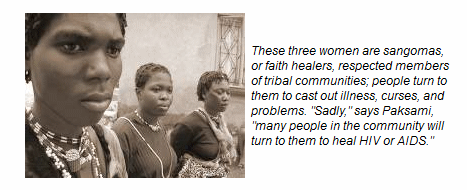 While Paksima was filming in South Africa, stories of babies being raped began to appear in the news. Child rape in South Africa is fueled by what's known as "the myth": that by having sex with a virgin, especially a very young one, an HIV-positive man might become HIV-negative. South African girls are contracting AIDS, Paksima notes, at the highest incident rate in the world. "[Journalists are] supposed to be professional and not be affected by these stories. But if you're a human being, you're going to be affected by them," she says.
While filming in a township, Paksima was held up at gunpoint — an eye-opening and frightening experience but, she points out, hardly a unique one in a country with one of the highest violent crime rates in the world. Thirteen-year-old twins she'd interviewed, for instance, were abducted half a mile from their home in the center of town and then gang-raped at gunpoint. Since the attack, the girls still have to walk to school alone every day. "We always have the luxury of leaving," Paksima says. "How could I compare how I felt to how they were feeling?"
The result of Paksima's Pew Fellowship for International Journalism (granted to journalists to cover foreign news stories not yet reported in the United States) was "Why the Children?" which aired in February on the PBS show Now, hosted by Bill Moyers. Paksima filmed, interviewed, and narrated the story, creating an intimate piece that moved viewers. "Very few people had ever heard about this problem," says Paksima. "It shocked people." Viewers of her story offered donations of money and time to AIDS organizations in South Africa. "I couldn't have been more pleased with the response," she says.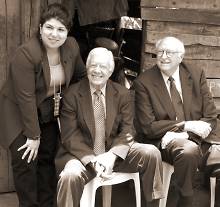 Because her documentary received such positive feedback, Paksima returned to Africa in March with William Gates Sr. and former U.S. president Jimmy Carter (in photo with Paksima and Gates) to do a follow-up story on Africa and AIDS for Now. The trip was funded by the Bill and Melinda Gates Foundation, which is the largest private donor of AIDS research in the world. This follow-up, which aired in May, looked at how different governments in Africa are handling AIDS and where those governments need help; Paksima visited South Africa, Nigeria, Central African Republic, and Kenya for this story.
Paksima is a video journalist with a strong drive to cover the tough social issues facing not only this country but the world. "I've always been interested in serious news," she says. In the last several years she has produced stories on neo-Nazi gangs in the United States, on witnesses to an execution in Arizona, and on electric-shock therapy and depression. Before becoming self-employed, she'd spent 12 years in the TV news industry, working with journalists such as Maria Shriver and Tom Brokaw at NBC. But news shows began to air crossover pieces with magazines such as People, and Paksima wasn't interested in the mix of entertainment and serious news. Two years ago she decided to become an independent producer and work on stories that she cared about. "It was a gamble," she says. "But the best part is I'm working on the stories that I exactly want to do."
A television-radio major with a minor in politics, Paksima studied under two Ithaca professors she credits with being particularly important to her development as a journalist. "[Associate professor of politics] Marty Brownstein taught me to open my ears and hear other people's voices, opinions, and positions," she says. "World politics, justice, and democracy were all topics I focused on in the classes we took — and those are the stories I pursue today." And TV-R professor Wenmouth Williams, she says, taught her to be "a precise and careful journalist."
Williams remembers Paksima, too. "There are certain characteristics students have while they're here," he says, "that [make it] seem obvious they're going to be successful: the drive, the inquisitiveness, the interest in the material, the striving to do their best work." Paksima, he says, had all these qualities: "She was special."
She gained hands-on experience by producing ICTV's evening news show and attending the London Center. While in London, she interned at a TV wire service and met many foreign journalists who inspired her.
Paksima has more international news stories planned. She will return to South Africa to film some more and to interview several perpetrators of child rape — some of whom are in prison, some at large. And she wants to return to her birthplace, Iran, and find a story there. "News directors and editors are really so selective about what they want American audiences to see. But our job," she says, "is showing people what they would never know [otherwise]. If you inform people, they'll want to do something about it."
Visit the NOW with Bill Moyers website for more about the documentary "Why the Children?" and an interview with Paksima.